Tasy Tuesday ~ Zucchini Noodle Egg Bake
May 16, 2017, by Carrie
Welcome to Tasty Tuesday! This is Carrie from A Stylish Fit. I'm excited to share a great little recipe that we tried on Sunday. The original version can be found here. This deliciousness is straight from one of my favorite food bloggers, Paleo Running Momma. I love her recipes especially since more and more I've living by a grain free living.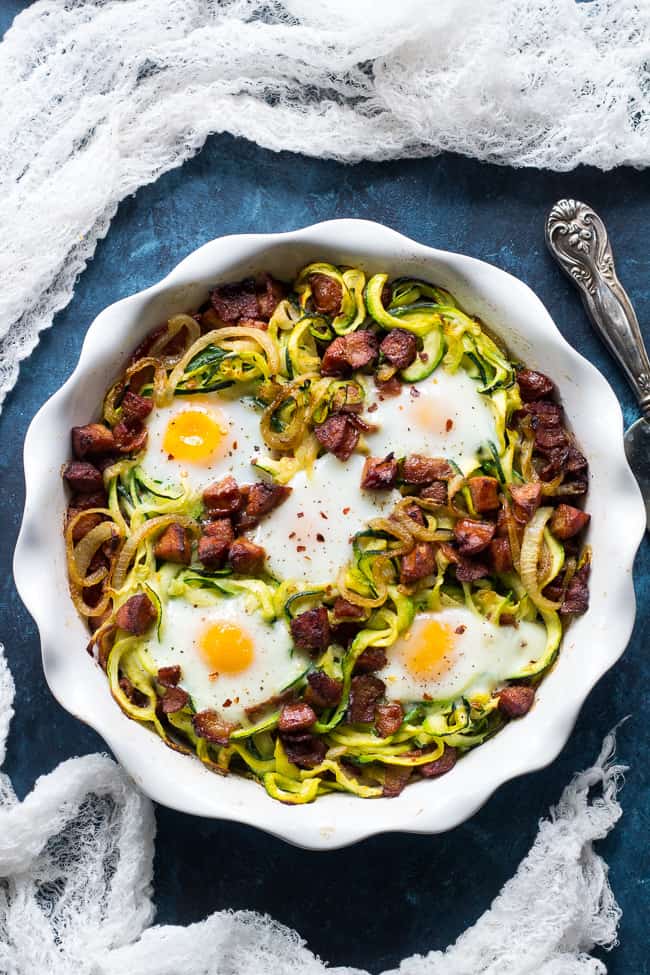 Does this look delicious to you? It did to me and let me say it is super yummy! Now let me be honest, I am the queen of revamping recipes if I don't have all the ingredients. I sub with what I have or because I may not like something in the ingredients. That's exactly what happened with this recipe.
Original ingredients:
3-4 medium/large zucchini, spiralized, salted and allowed to "sweat" for an hour, then squeezed with paper towel
2 spicy sausage links (chorizo, andouille, spicy italian) precooked and chopped
4 slices bacon, cut into bite size pieces (use sugar-free for Whole30)
½ medium onion or 1 small onion, sliced thin
1 tbsp nutritional yeast (or 2 tbsp parmesan cheese, if dairy is okay)
pinch crushed red pepper flakes (add to preference)
4-5 eggs
salt and black pepper (or a pinch of red pepper flakes) to top eggs
We were out of bacon at the moment when cooking began, which is hard to believe because my hubby adds bacon to every one pan dish he creates. And you won't hear me complaining. Side note - I switched us to uncured bacon a while back so I don't feel guilty about bacon at all.
We started with these ingredients. If you took a peek at the original recipe we didn't really change much. Left out the bacon and added some peppers and sweet potato.
Cooked up the onion and peppers first in a little avocado oil.
Prepped the zucchini and sweet potato by spiralizing them and cooked them a little bit too.
Added the chopped sausage.
Made room for the eggs.
Popped it in the oven at 400 degrees for about 15-20 minutes.
Served it up!
It was delicious! I could have eaten the entire pan! I'm telling the truth...
This recipe was super simple because we cooked or partially cooked everything except the sausage and eggs before we put it into the oven to bake. You can follow this
link
to the original recipe unless you're adventurous and want to improvise like we do. It really is a lot of fun!
Thank you in advance for sharing your deliciousness with us this week!