Tasty Tuesday: Superb Salads
January 09, 2018, by Christy
Today we are talking salads. I love salads. I'm that person that orders a salad in a restaurant over a burger and frieds Don't let me fool you into thinking I am making a healthy choice, because trust me, it isn't. Not the ones I choose anyway with full dressing and cheese!

I enjoy salads so much that I brought the same salad to work for lunch for over a year and then got 'salad-ed' out. I just couldn't eat them anymore. I took a very long break from salads and recently started to enjoy them again. I thought only kids ate something so much that one day they just hated, nope, adults do it to.
I have this friend that brings a salad every time she comes over and I look forward to it because her dressings are so yummy. Did you know that making your own salad dressing is actually really easy and way healthier than the ones that you buy? I was fooled into thinking that making your own dressing was hard, until I tried my own and realized it was worth it.
This is my go to, put on everything salad dressing:
3 tbsp cider vinegar
3 tbsp olive oil
2 tbsp honey
2 tsp dijon mustard
1/4 tsp salt
ground pepper to taste
1-1/2 tsp poppy seeds (optional)
1/3 cup small diced red onion (optional)
Back to my friend.... we went to her house for dinner a few months back and she asked me to bring a salad. I felt like I had to bring something up to the standard of the salads she has shared with my family. I set out looking for 'easy' salads where the ingredients were all ones I had around and I came up with this one, the
Roquefort Pear Salad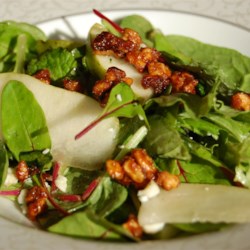 I made a few changes to the recipe. First, I used canned pears instead of fresh. Let's be honest, there ain't no fresh pears in Canada in November. I have never heard of Roquefort cheese, but I do love goat cheese in a salad. LOVE me some goat cheese! This was my first time ever making candied pecans and I burned them 2 times before I got them perfect. They were well worth the effort thought, they were SO good. Finally, I cut the sugar in the dressing trying to make it healthier.
This salad was fantastic. My friend loved it, I loved it, even James, the non salad eater, had a second helping! This recipe is a winner!
Since I was on a salad role, the very next night I tried
Jamie's Cranberry Spinach Salad
.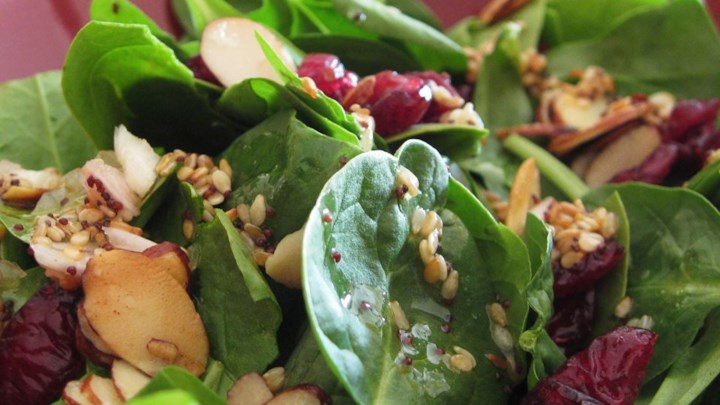 I loved this one as well! What I learned from this salad is that I love toasted almonds. I didn't do like the recipe suggested and cook the almonds on the stove, instead I baked them at 350 for 10 min and the came out perfect. I also cut the sugar and the oil in half based on reviews. Oh and I added goat cheese to the salad because cheese makes everything better!
Do you read reviews of recipes? I always do. I find that you can get great tips and learn from others mistakes rather than make them yourself.
Now that I have had 2 successes I am all about making these salads. While I haven't gone back to bringing them for lunch, I do enjoy making them for family dinners and to bring with me to others houses.
What is your fave salad recipe?